YESSERA is a non-governmental, non-profit organization registered and based in the United States and Ethiopia. A small group of Ethiopian expatriates founded YESSERA in 2001, with the belief that even small investments can cause transformative impacts.
YESSERA currently operates on a small scale, working with one isolated community and their disadvantaged young adults each year. Since 2004, we have invested in Hawassa, Debre Birhan, Bekoji, Assosa, Ebinat, Metu, and now Bonga. Although enrolled young leaders study for one year in the capital, Addis Ababa, we purposely assist communities that are geographically, socially, and economically isolated. Indeed, this commitment sets YESSERA apart from many other NGOs in Ethiopia.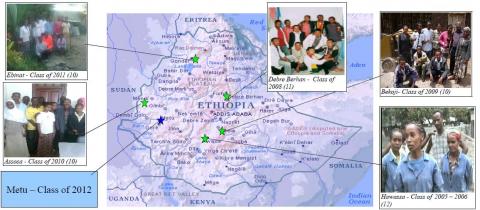 YESSERA is overseen by a United States and Ethiopian-based Board of Directors, with programs managed by Mr. Solomon Retta in Addis Ababa. We scaled up our services from 2013-2014 to reach more young leaders in different communities and their emerging enterprises. Learn more about our programs or register here for automatic updates on our work.
YESSERA brings together the youth of Ethiopia from all four corners. We work to alleviate poverty in an innovative way — by teaching Ethiopia's youth to be self–sustaining. We provide vocational schooling and promote enterprise with the goal of equipping our youth with valuable skills that can be shared among their communities. In 2020, YESSERA has focused on Addis Ababa and all women's training in diversified fields.
Through a network of vibrant, productive and strategically located enterprises and individuals, YESSERA works to achieve its goal of becoming a hub of creativity for Ethiopian development. In an effort to achieve this goal, we are currently working to build the YESSERA Training Center, starting first with an Internet Cafe in Addis.
Join us in our effort to enrich the lives of Ethiopians by teaching self-sufficiency and enterprise. We invite you to share with us your thoughts and ideas on how we can continue to bring our dreams to fruition. Your participation and generous financial support brings our vision to life.
To contact our staff, please email us here, or phone us at (512) 302-4222. You can donate to support our work here.
All United States-based gifts are tax deductible.